The new Wavecom Airlink / Sierra Wireless Fastrack Xtend GPRS programmable gateway offers quad-band GPRS connectivity. It is possible to change between a European modem(900/1800) and an American modem(850/1900) through AT Connection. The Wavecom Airlink / Sierra Wireless Fastrack Extend comes with an extra expansion port which is called "IESM".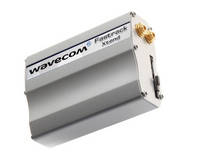 The Wavecom (sierra)Fastrack Xtend is just like its predecessor, the Wavecom Supreme a simple and quick to use a modem. The universal expansion slot allows various modules to be placed, you can think of GPS, Ethernet, IDE, USB. The Wavecom Fastrack Xtend is designed with a revolutionary open standard Internal Expansion Socket. The Wavecome Fastrack Extend is powered via an external power supply and if the optional battery is used it can be powered via USB.(the cable is included)
The Wavecom Xtend(sierra) can be used as a GSM modem, providing SMS, voice/audio and circuit switched data connectivity special for build to order anhas its proven quality!! Designed for M2M customers, these programmable gateways feature standard interfaces USB and/or RS232 for use with a wide range of industrial equipment. So it is more easy to setup as in the past. All AirLink FXT Series and GL Series programmable gateways are available with an embedded SIM as an option.
The Fastrack (sierra) Xtend features an open-standard expansion card interface, enabling you to add additional IO connectivity or features like GPS, WiFi, Bluetooth, Zigbee and more. Sierra Wireless expansion cards can be used, or you can develop your own expansion card. Available off-the-shelf expansion cards from Sierra Wireless include:
Expansion card GPS+IO
Expansion card Ethernet
Plug-and-play functionality
ARM 946, 32-bit, 104Mhz processor equipped with Open AT(R) real-time operating system
Quad-band EDGE connectivity for 850, 900, 1800 and 1900MHZ frequency bands
Supports GSM, GPRS, EDGE and CSD
Full IPR protection
Sierra Wireless Software Suite
Rugged embedded SIM available for reliable operation in harsh environments
Unparalleled expandability
Fully programmable ARM9 processor, programmable in C/C++ or Lua

Core processor
ARM 946, 32 bit, 104MHz running Open AT RTOS as standard
Memory
Internal 32 Mb Flash and 8 Mb PSRAM
Digital Control
2 GPIOs (many more thanks to IESM)
Digital Comms
1 UART (many more thanks to IESM)
Audio Interfaces
1 analog differential audio (many more thanks to IESM)
Cellular Radio
Supporting quad band EDGE
Cellular Data
GSM standard, SMS, CSD, GPRS cl10 , EDGE cl10 (for FAstrack Xtend20 only)
Cellular Voice
Quad codec (FR/HR/EFR/AMR), VDA2A
RF & IO
1 SMA Connector
Embedded SIM
All AirLink FXT Series and GL Series programmable gateways are available with an embedded SIM as an option.
Sierra Wireless's embedded SIM solution removes the plastic from a conventional SIM card and embeds
the silicon die inside the programmable gateway, with the following benefits:
• Subscription portability and security
• Reduced size
• Simplified logistics
• Same warranty as the programmable gateway itself
• Resistance to extreme temperatures, vibration and humidity
• Subscribers can choose their service provider and carrier
Air Link GL Series cellular modems
Among the world's smallest ready-to-go cellular modems, the AirLink
GL6100 (DB9) and AirLink GL6110 (USB) plug into any device and are ready
to make the GSM/GPRS connection. They feature complete IP connectivity,
from basic TCP/IP blocks to advanced internet services.
Sierra Wireless provides a professional education program
for developers using the Sierra Wireless Software Suite.
Enrolling in one of our courses will spark your creativity and
help you to speed development time. For companies wishing
to enroll a few participants, we provide scheduled training
course dates in Europe, North America and Asia on a regular
basis. If you have larger needs or just want a dedicated
tutoring session, we also offer on-site programs.
Click here to see this product in our store!