Epson has revealed it's latest projector, the EH-TW400 is an all-in-one solution which was developed for use whether in the office or at home for your movies or video games.
The EH-TW400 is an easy to use, Plug & Play 3LCD Projector, which has the ability to connect via either USB or VGA Cable. The Epson 3LCD Projector also targets business users allowing to project Images and documents directly from any USB Flash Drive or external Hard Drive. The Epson EH-TW400 also allows users to connect a Blu-ray player or high-end DVD player. Epson also added their exclusive E-TORL lamp technology which offers a fair enough 5000 hours of lamp life.
The Epson EH-TW400 also features compatibility with the Epson iProjection app which means owners of iPhones, iPads and iPod Touch devices can download a free app which will enable them to connect to 30 different Epson projector models via a wireless LAN. Epson iProjection will support Microsoft Word, PowerPoint and Excel files, as well as .pdf documents. JPEG and PNG image file formats will be supported as well. Finally, the app will give the user the ability to switch video sources and handle some projector operations (such as volume control) right from their iPhone, iPad or iPod Touch units.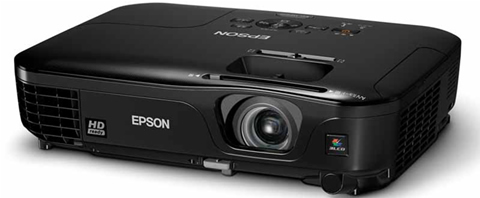 Full Specifications: Epson EX7200 3LCD Multimedia Projector

Projection System: Epson 3LCD, 3-chip technology

Projection Method: Front / rear / ceiling mount

Driving Method: Epson Poly-silicon TFT Active Matrix

Pixel Number: 1,024,000 dots (1280 x 800) x 3

White Light Output: 2600 lumens1 (ISO 21118 Standard)

Color Light Output: 2600 lumens1

Aspect Ratio: 16:10

Native Resolution: 1280 x 800 (WXGA)

Resize: 640 x 480 (VGA), 1024 x 768 (XGA), 1152 x 864 (SXGA), 1400 x 900 (WXGA+), 1440 x 900 (WSXGA), 1680 x 1050 (WSXGA+), 1400 x 1050 (SXGA+), 1600 x 1200 (UXGA), 1680 x 1250 (WUXGA)

Lamp Type: E-TORL™ 200 W UHE

ECO mode: Up to 5000 hours
Normal mode: Up to 4000 hours

Throw Ratio Range:
1.30 – 1.56 (16:10)
1.56 – 1.87 (4:3)
Size (projected distance): 33″ – 318″ (0.84 – 8.13 m)

Keystone Correction:
Automatic: Vertical: ±11 degrees
Manual: Vertical: ±30 degrees
USB Plug 'n Play: Projector is Mac® compatible via USB, DVI to HDMI or VGA adapter (not included)

Contrast Ratio: Up to 2000:1

Color Reproduction: 16.77 million colors