Description:
The Panel PC V Panel based on ETX technology offers supreme computing performance with processor speeds based on Intels Pentium M technology at low power consumption.
The ETX technology permits scaleable CPU performances for a wide range of industrial applications. The integrated innovative cooling concept realizes a passive and fanless cooling for processor performance up to Pentium M. Optional the field buses CANopen, DeviceNet or Profibus are integrated directly on board.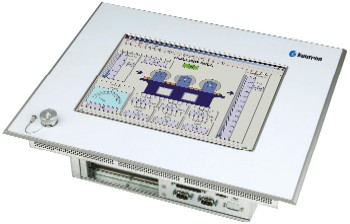 Features V Panel:
scalable display sizes: 10.4" / 12.1" / 15" / 17" / 19"
resistive analog touch screen
up to Pentium M
up to 1024 MByte main memory
4xRS232, Dual LAN 10/100 (100/1000 opt.), 3xUSB, 2xPS/2, 1xLPT
optional Profibus or CANopen or DeviceNet or CAN on-board
2 PCI slots free, PCMCIA slot opt.
IP 65 front (NEMA 250 type 12 and 13)
power supply: 24 VDC
fanless cooling concept
16 keys optional
Windows XP, Windows XP Embedded, Linux, Linux embedded

Specificaties:

Model 104 121 150 170 190
Display 10.4" 12.1" 15" 17" 19"
Resolution 800x600 800x600 1024x768 1280x1024 1280x1024
Brightness 350cd/m² 350cd/m² 250cd/m² 250cd/m² 250cd/m²
Touch Screen Resistive analog
Function Keys 16 keys optional
Front Bezel Alu, Stainless steel optional
Dimensions (Panelmount)
H x W x D
295 x 348 x 120 mm 327 x 400 x 125 mm 362 x 452 x 125 mm 390 x 465 x 130 mm 426 x 516 x 136 mm
Processor up to Pentium® M
Main Memory up to 1024 MByte
I/Os 3x USB (1x front; 2x rear side), 2x PS/2, 1x LPT, 1x LAN 10/100, 1x LAN 100/1000, 4x RS232
Free Slots 2x PCI, PCMCIA slot optional
Field Buses CANopen or DeviceNet or Profi bus
Internal Drives CompactFlash, HDD optional
Drives side accessible HDD
Power Supply 24 VDC
Cooling Fanless cooling concept
EMC US: FCC47 CFR PART 15; Class A level CE: EN61000-6-2; EN55022/A (CISPR22)
Approvals CE, FCC, cULus
Protection Class IP 65 front (NEMA 250 type 12 and 13)
Altitude Operating: 10000 ft (3,048 m) / Storage: 15000 ft (4,622 m)
Shock DIN EN 60068-2-27 Operating: 15G, 11ms duration / Storage: 30G, 11ms duration (half-sinus)
Vibration DIN EN 60068-2-6 Operating: 10-500 Hz: 1G/3 axis / Storage: 10-500 Hz: 2G/3 axis
Temperature/Humidity Operating: 0° to +50°C / 5 to 95% non condensing Storage: -20° to +60°C / 5 to 95% non condensing
MTBF > 40000 h*
Verifi ed OS Windows XP, Windows XP Embedded, Linux, Linux Embedded
RoHS compliant yes