Click here for the english version
Smartflow ontwikkelt branchegerichte toepassingen (Apps) voor mobiele medewerkers die tablets en smartphones gebruiken. Deze zeer gebruikersvriendelijke toepassingen worden volledig geïntegreerd met de bestaande systemen binnen uw organisatie. Het optimaal ondersteunen van uw werkprocessen met mobiele toepassingen leidt beslist tot meer efficiëntie en dus kostenbesparingen. Om dit te kunnen realiseren hanteert smartflow het volgende stappenplan:

De werkwijze
Voor ons is de vraag "wat kost het om een App te ontwikkelen?" niet het uitgangspunt. Een succesvolle SMARTFLOW App van smartflow dient direct bij te dragen aan het resultaat van uw organisatie. Om dit te kunnen bepalen zal smartflow middels de APPnalysis SCAN samen met u een business case uitwerken. Als de business case aantoont dat er significante resultaatverbeteringen te behalen zijn dan zal smartflow voor eigen rekening risico een eerste Proof of Concept maken. Indien deze aan uw verwachting voldoet zal de definitieve SMARTFLOW App voor uw organisatie worden ontwikkeld conform alle klantspecifieke wensen. Uw besparingen zijn dan al bewezen!


Het team van smartflow
De hoog opgeleide specialisten van smartflow worden graag door u uitgedaagd. Een SMARTFLOW App moet altijd bijdragen aan de resultaten van uw organisatie. Innovatie, creativiteit, moderne technieken en wilskracht vormen hiervoor de basis. Wij zijn pas tevreden als u tevreden bent! Van strategie, planning, design en ontwikkeling tot en met implementatie, onderhoud & beheer. De medewerkers van smartflow maken graag onderdeel uit van uw organisatie als het gaat om de juiste oplossing.


Onze sectoren
smartflow is actief in de volgende sectoren.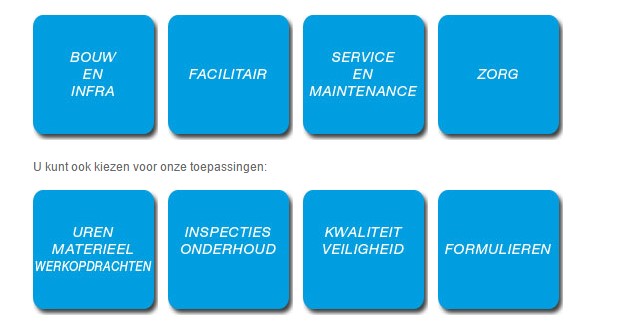 Ontwikkeling
SMARTFLOW vormt de basis voor uw Enterprise App. Dit MEAP (Mobile Enterprise Application Platform) is een geavanceerd platform, waarin complexe onderwerpen, zoals data beveiliging, data synchronisatie, data integratie met uw back office en vele andere aspecten standaard beschikbaar worden gesteld. Daarnaast biedt SMARTFLOW een grote hoeveelheid standaard functionaliteiten die als standaard componenten kunnen worden toegepast in uw Mobiele App. Ontwikkeltijd, integratie en andere kostbare processen worden tot een minimum beperkt. Aangevuld met uw klantspecifieke wensen maakt dit alles uw SMARTFLOW APP snel, compleet en kosteneffectief. SMARTFLOW biedt u een hybride oplossing, waarin "the best of both worlds" bij elkaar gebracht worden tijdens de ontwikkeling van uw app.
Platform onafhankelijk
SMARTFLOW maakt gebruik van recente, maar bewezen technologieën voor mobiele toepassingen, waarmee uw App cross platform kan worden ingezet, waaronder Windows, Android en iOS. De cliënt App kenmerkt zich door een prettige gebruikerservaring en is daarbij ook offline werkzaam waardoor er bij wegvallen van de data verbinding verder gewerkt kan worden. SMARTFLOW is uitermate geschikt voor uw bedrijfskritische Enterprise Apps met zware eisen aan performance, veiligheid en integratie met device-specifieke onderdelen.
Web Office
Uw Mobiele Apps worden beheerd vanuit een centrale web office. Denk aan het beheer van gebruikers, autorisatierechten, monitoring, communicatie en andere belangrijke management taken. Uiteraard biedt de Web Office een aantal standaard rapporten die het beheer en gebruik vereenvoudigen. Uw bent "anytime, anywhere, any device" op de hoogte van de dagelijkse ontwikkelingen.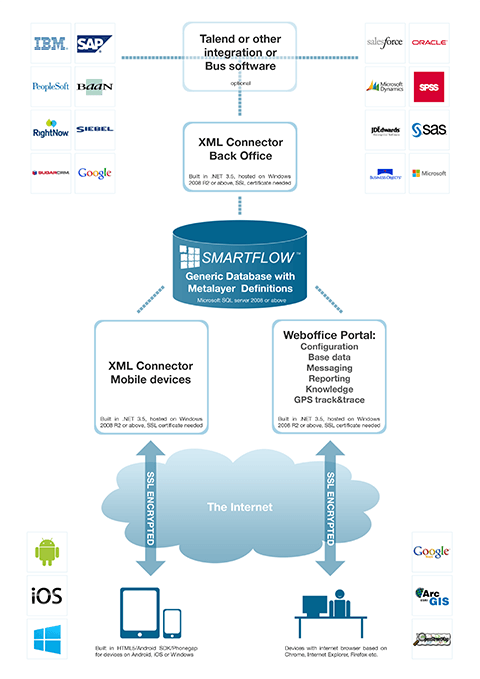 Mocht u vragen hebben of een demo licentie willen ontvangen kunt u een mail sturen naar This email address is being protected from spambots. You need JavaScript enabled to view it.