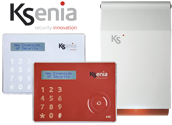 Ksenia is een opkomende speler in de markt van Alarmsystemen. Het systeem werkt volgens een basismodule - Laris - waar vervolgens uitbereidingen op aangesloten kunnen worden. Hiervoor kan men kiezen uit een breed scala aan producten.
De eerdergenoemde basismodule heet Laris en is verkrijgbaar in drie varianten: ondersteuning voor 16, 48 of zelfs 128 zones. Tevens is de basismodule voorzien van noodstroom. Mocht de vaste voeding onverhoopt een keer wegvallen is dit dus geen probleem voor uw Alarmsysteem.
Flexibel systeem
Multi-Site (zones/locaties zijn te koppelen)
Zowel bedraad als draadloos
Voldoet aan de veeleisende moderne gebruiker
Gateway voor Domotica
Optionele koppeling met Camerasysteem
Tablet- & Smartpone support
Klaar voor de toekomst
Externe toegang tot het systeem

Een Ksenia Lares Alarmsysteem is erg flexibel, en kan worden uitgebreid met een of meerdere van onderstaande producten en functionaliteiten:
Bedienpaneel
Magneetcontact (deuren of ramen)
Rookmelder
CO2-melder
Keyfob (afstandsbediening)
Sleutelschakelaar
Binnen- en Buitensirenes
SMS/GSM/GPRS Module (optioneel, geclassificeerd voor meldkamer)
Meldingen via email
PIR (Passief Infrarood) token
NFC token
RFID token ('druppel')
Indien u interesse heeft in een Ksenia Alarmsysteem bent u bij Comm-Co aan het goede adres.
Wij maken graag een vrijblijvende offerte voor u.