Garmin Edge 705 HR Beschrijving
Met de introductie van de Edge 605 en 705 breidt Garmin zijn uiterst succesvolle Edge fietsnavigatie serie uit. De Edge 605 en 705 voegen een aantal nuttige extra's toe aan deze serie ten opzichte van de reeds beschikbare Edge 205 en 305. Met de nieuwe modellen is het mogelijk optionele cartografie te gebruiken voor het berekenen van routes, te voorzien in apparaat-naar-apparaat communicatie voor het onderling delen van routes, trainingen, koersen, tracks en waypoints en voor de Edge 705 SRM compatibiliteit voor het uitlezen van atleetkracht data. De SRM techniek wordt veel gebruikt door echte professionals en stelt u in staat de direct op de pedalen uitgeoefende kracht te meten. Verder bieden de Edge 605 en 705 een verbeterde acculevensduur van 15 in plaats van 12 uur, een kleurenscherm in plaats van een monochroom scherm, via microSD uitbreidbaar geheugen voor het opslaan van cartografie en is het interne geheugen uitgebreid tot 495 MB.
De Edge serie is special ontworpen voor de racefietser waarbij mede is gelet op vorm en functionaliteit. Alle modellen zijn voorzien van een uiterst gevoelige GPS ontvanger die voldoet aan de eisen van gebruikers voor betrouwbare en nauwkeurige gegevens. Deze modellen zijn in staat onder veeleisende condities hun werk te doen, of dat is omgeven door hoge wolkenkrabbers of in een vallei onder een zwaar bladerdek. Alle modellen houden nauwkeurig snelheid, afstand en tijd bij, alsmede allerlei hieruit af te leiden randgegevens. De topmodellen Edge 305 en 705 kunnen daarnaast cadans, hartslag, verticaal profiel, mate van klimmen en stijgen en hoogte bepalen en opslaan.
De nieuwe Edge modellen beschikken over een kleurenscherm van 5.6 centimeter diagonaal voor gemakkelijke aflezing van de beschikbare data. De Edge 605 is met name bedoeld voor de recreatieve fietser en voorziet in route, cartografie en workout informatie. De Edge 705 is een uiterst geavanceerde fietstrainer en kan worden aangeschaft als Edge 705 HR (incl. hartslag sensor) en als Edge 705 Bundel (incl. hartslag- en cadanssensor). De cadanssensor is ook afzonderlijk te koop zodat gebruikers van de Edge 705HR in een later stadium alsnog beide functies kunnen gebruiken in hun training. De sensor gegevens worden met ANTTM technologie draadloos doorgegeven aan de Edge 705.
Garmin biedt u hierbij de online community Garmin ConnectTM voor het delen en analyseren van de training data. Garmin ConnectTM stelt u in staat alle gegevens en prestaties grafisch op uw scherm weer te geven. Alle informatie zoals snelheid, hartslag, cadans, hoogte en tempo, kan gelijktijdig of afzonderlijk in beeld worden gebracht. Daarnaast is het mogelijk routes en tracks in Google Earth te bekijken, zodat u vooraf een goed beeld heeft van de zwaarte van het uitgezette parcours of achteraf kunt nakijken waarom uw hartslag relatief hoog was op een bepaald punt in dat parcours.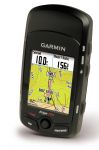 Garmin Edge 705 HR Technische specificaties
FYSIEK & PRESTATIES
afmetingen

51 B x 109 H x 25 D (mm)

gewicht

104,9 gram

display type

scherm grootte, diagonaal

34,8 inch

batterij

batterij levensduur

15

hoog-gevoelige GPS-ontvanger

GEHEUGEN & CARTOGRAFIE
basiskaart

mogelijkheid laden aanvullende cartografie

voorgeprogrammeerde kaarten

geen

geheugen slot

microSD

PRODUCT FUNCTIONALITEIT
Power meter compatibel (toon power data from compatible 3rd party ANT+Sport™ capabele energie meter

apparaat naar apparaat data overdracht (deel draadloos met gelijkwaardige apparaten)

waypoints

100

aanpasbare schermen

routes

ja, beperkt door beschikbare geheugen

koersen (neem het op tegen een vorige workout)

tracklog

1000 laps tracks, totaal

hartslag monitor

compatibel, meegeleverd

aanvullende functionaliteit

snelheids-/ cadanssensor

compatibel, optioneel

Garmin Connect™ compatibel

Garmin Training Center® compatibel

Auto Pause® (pauzeert en herstart timer gebaseerd op snelheid)

eigen POIs