Description Herculus 42' medical display:
The Hercules 42' medical display for clear stroke-free pictures in 1080p High-Definitionresolution, amazing design as well as high quality. Specialy developed for the professionell use, it can be found everywhere replacing formaly standard CRT, LCD and PDP TVs and also there were new digital signale systems are installed. (e.g. surgery, ER, endoskopy, laboratories and clean-spaces) The device is perfectly fitted for presentations.The high-end-controller offers a full range of a repertoire of analoge as well as digital inputs. A "splitscreen" function is also integrated. The synchronisation-attributes are outstanding. The panel is Full HD- ready and therefor primed for the image-processing of tomorrow. The HERCULES 42" Medical Display is certified according to EN60601-1 and DICOM 3.14 compatibel. (AFS/CFS Calibration) With the IPX1 shielding the Frontpanel is additionaly protected. Besides the stationary use the HERCULES 42" Medical Display offers also the possibility for the mobile installation with the HERCULES MoveIT Cart.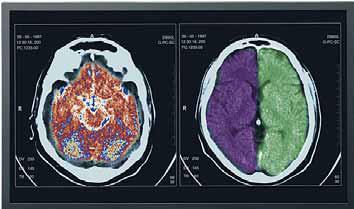 Technical specifications:
Size 42"/ 106.7 cm
Active area (H x V) 930 x 523 mm
Resolution 1920 x 1080 / HDTV
Number of pixels 2.0 Megapixel
Pixel-Pitch (H x V) 0.4845 x 0.4845 mm
Brightness 500 cd/m²
Contrast ratio min. 1000:1
Colors 16.7 Mio.
Viewing angle h/v 178° / 178°
Digital Input Signal 15-pin mini D-sub analog
VGA
Signal Input DVI-I
(VGA analog+digital)
Power Consumption < 300 W in operation
Approvals UL60601-1, CE
(EN60601-1-Z), FCC
Dimensions (W x H
x D)
1026 x 619 x 122 mm