Description Digi Connect WAN Family
The Digi Connect WAN family of commercial-grade Wireless WAN cellular routers, gateways and VPN appliances provides secure high-speed wireless connectivity to remote sites and devices. Digi Connect WAN cellular products can be used for reliable primary wireless network connectivity to equipment at remote locations, as well as for a backup to existing landline communications. They are also ideal for use where wired networks (e.g., leased line/frame relay, ISDN, DSL) are not feasible or where alternative network connections are required.
Digi Connect WAN products are able to provide a primary Wireless WAN connection to remotes sites containing Ethernet and/or serial devices. Applications include new construction locations, power utility substations, retail/POS sites, temporary facilities without primary wired connections, and many more. For backup network applications, Digi Connect WAN cellular products integrate with remote locations via a secondary Ethernet WAN port on an existing router. This provides a truly diverse network connection for remote locations requiring maximum uptime, such as retail/POS and financial applications.
Digi SureLink is a unique feature that provides a "persistent connection" over wireless networks by utilizing a three-way client and server initiated scheme. All Digi Connect WAN cellular products seamlessly integrate with Digi Connectware® Manager, which provides easy setup, configuration and maintenance of large installations. Users can upgrade firmware or change settings on thousands of devices with only a few clicks. It also makes troubleshooting simple by reporting problems like identifying misbehaving devices or network issues.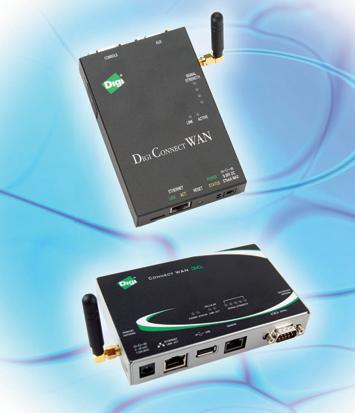 Features Digi Connect WAN Family:
• Hardware suite includes cellular gateways, routers and VPN devices
• GSM GPRS/EDGE/UMTS/HSDPA or CDMA 1xRTT/EV-DO network for reliable wireless network connectivity
• Unique Digi SureLinkTM "always-on" connection maintains wireless connection for rapid on-demand communications
• 10/100Base-T Ethernet and serial connections
• 9-30VDC for diverse power input
• Web interface for easy centralized console configuration and statistics
• Integrates with Digi Connectware Manager for seamless management and monitoring of hundreds or thousands of devices
• Up to 256-bit AES security provides encryption and authentication for management communications via Digi Connectware Manager
• Specialized models for industrial and synchrounous applications