Descriptie MobiGater Pro skype naar GSM-Centrale
De MobiGater® Pro stuurt Skype™ gesprekken door naar (maximaal) vijf verschillende, door u opgegeven, (GSM) telefoonnummers.
Met de MobiGater® Pro heeft u de beschikking over een Skype™ naar GSM centrale. Middels de automatische telefoniste functie (IVR) biedt u uw klanten de mogelijkheid om over één centraal Skype™ account met verschillende medewerkers of afdelingen doorverbonden te worden.
De MobiGater® Pro werkt met één SIM kaart, het GSM nummer van de SIM kaart is voor iedereen of alleen geselecteerde gebruikers (telefoonnummers) toegankelijk. Iedere gebruiker met toegang tot de MobiGater® kan gratis Skype™ gesprekken voeren.
In combinatie met een geschikt mobiel in business GSM abonnement kunt u deze gesprekken volledig gratis of tegen zeer lage kosten voeren.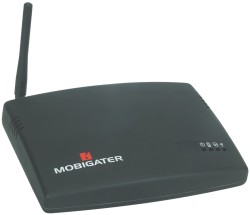 Specificaties MobiGater Pro skype naar GSM-Centrale
Robuust metalen behuizing
Metalen toetsenbord
Vier programmeerbare voorkeuze toetsen
Telefoonhoorn met pantsersnoer
Toetsenbord blokkering
Flash-tijd instelbaar
365x225x180mm (HxBxD)
Bedrijfstemperatuur -20°C / +55°C
dZ3JE0hscyv8xzifSMJ+hA==