Description:
Remote sensing head for continuously monitoring airflow.
Designed to be interfaced to a remote Telemetry System.
The output of the Airfow sensor can be displayed as trend graphs on a Scada software program.
Originally designed for the South African mining industry, specifically to monitor underground in the gold, coal or diamond mine, but can also be used for Industrial applications.
Method Of Operation

The solid-state airflow sensor was developed for monitoring airflow to ensure that the mine ventilation system is in order.
In underground mining activity the air is mixed with all sorts of contamination-to an extent that it is becoming toxic for human life. This air has tobe mixed with enough fresh air in order to keep contamination to an acceptable level. Air circulation in the underground mines is achieved by using various extractor and / or intake fans.
When an extractor and / or intake fan fails, the airflow will decrease, and the airflow sensor will give a corresponding smaller signal output-so that the ventilation officer can be alerted.
The proven way to measure the airfow very accurate and independent on small particles.
Specificaties: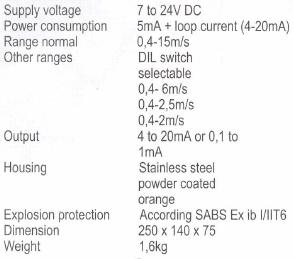 Characteristics
Airfow speed maximum range of 40m/s or 144 km/hour.
Linear output proportional to airspeed. Highly accurate, dependant on the width of the "accentuater" bar.
Calibration is a function of the width of the bar. Rapid response of change of airflow.
Excellent repeatability inherent to the vortex principles.
Very low lifecycle costs due to no moving parts. Insensitive to small particles, dust or water
droplets in the air stream. Internal OIL switch for different ranges of airspeed.
Output is a standard 4 - 20mA.
Ook aanwezig in onze shop:
http://www.comm-co.com/jm/index.php/Webshop-Prim/Overige-EX-Producten/Air-velocity-sensor.html
yXOHN1Ovzvde/X6K5w6FBw==