Discription of the Itronix Duo-Touch II PC

The Duo-Touch® II Tablet PC is the latest in a long line of fully-rugged Tablet PCs designed specifically to enable secure, reliable, mobile computing in environmentally-challenging work environments. This feature rich computing platform features dual-touch operating modes enabling you to switch effortlessly between active digitizer and passive touchscreen operations. General Dynamics Itronix, the company behind the Itronix Duo-Touch, has made some improvements to the Tablet PC and now it provides a better performance, along with a good (read bigger) display screen.
Renamed to Intronix Duo-Touch 2 PC, the small-sized computer boats an Intel processor, more specifically a Core Duo U2500, and the memory RAM can go from 512MB up to 2GB. The TFT display screen now measures 8.4-inches, and includes a technology to make it easy to view the content while using it outdoors.
Other features include two types of hard-drives: either Solid State with 32GB as the maximum capacity, or a normal (2.5") HD with 120GB; plus Wi-Fi for an internet connection, GPS to know where you are located, and bluetooth to use a headset or transfer files from/to a cellphone.
Daylight Viewable Display of the Intronix Duo-Touch PC

Mobile vertical market computers like the GD-Itronix Duo-Touch II are often used outdoors. This means the display must be readable in broad daylight. The pursuit of outdoor readability has been sort of a Holy Grail of rugged computer manufacturer and different technologies have been tried over the years. While one might think that display brightness is the key, brightness alone is not enough. The real problem is reflection. If the amount of light reflected by the display is as much or more than the light emitted by the backlight, then the display cannot be read. So contrast becomes an issue.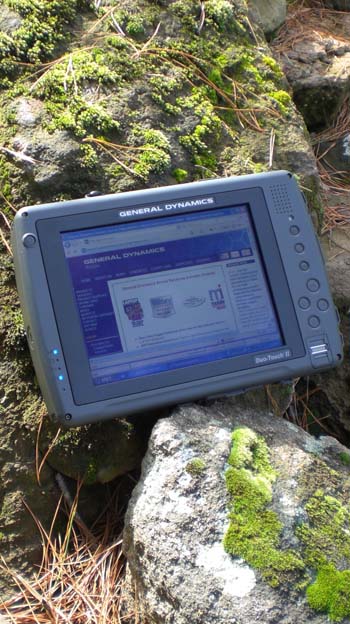 LCD manufacturers define contrast ratio as the ratio between the whitest pixel and the blackest pixel in a dark room. Such ratios can be 1000:1 or more. They are also meaningless outdoors. According to our technology editor Geoff Walker, the real-world, or effective, contrast ratio outdoors can be determined with a rule-of-thumb formula where effective contrast ratio = 1 + (emitted light / reflected light). Effective contrast ratios are generally between 1:1, which is unreadable, and 20:1 which is as good as it can get and comparable to a typical newspaper in sunlight.
Emitted light the strength of the backlight is important but it is also a mixed blessing. It is generally measured in candela per meter squared and usually called nits. Average notebook backlights are about 200 nits. A high bright display may have as much as 1,000 nits. This draws a lot of power and can wash out pixels, making even dark ones look grayish.
The key to a daylight readable display therefore is in reducing reflection. That is relatively simple for a standard LCD, but much more difficult for displays with touch screens as they add more layers and thus more reflective surfaces. To reduce reflection, manufacturers use anti-reflective coatings and special polarizers. The exact layering and bonding methods of all those surfaces determines overall reflection, and this is where the patent-pending comes into play. In conjunction with a strong (but not excessively bright so as to significantly reduce battery life) backlight, it cuts overall display reflectivity to about 7:1, which Walker describes as "adequately readable in sunlight."
Remarkably well unless you have unrealistic expectations. Take the Duo-Touch outdoors on a bright day, and it remains totally readable in the shade. Go into direct sunlight and it becomes a bit more difficult as the sun can still reflect in the display surface. So why not add one of those matte-looking anti-glare coatings on top of everything else? Because GD-Itronix found that an anti-glare coating reduced performance and test users felt an anti-glare coated screen was not as sharp. As is, even facing the sun the screen remains readable, though you may have to position it so there is no direct reflection from the sun.
The display of the Intronix Duo Touch II isn't perfect, and current technology doesn't allow one that is, at least not outdoors.
What do u think about a viewing angel? Ever since the BOE Hydis wide viewing angle LCDs became available in Tablet PCs, we've been raving about them as they let you view the screen from any angle without any color shifts or washing out. BOE Hydis does not make an 8.4-inch display. The one GD-Itronix uses has a perfect near-180-degree horizontal viewing angle, but a much narrower one when you tilt the unit vertically. That means you have to hold the computer at a proper angle to avoid color shifts. This would be an issue in a notebook, but much less so in a tablet that can easily be positioned for best possible viewing.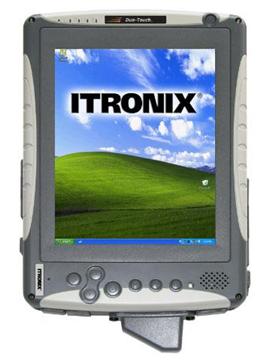 Key Features


Fully-Rugged Tablet Reliability - Lightweight and ergonomic, the MIL-STD rugged Duo-Touch® II has the rugged and weatherized capabilities (such as 36" drop protection) we build into all our "real world proven" products

Ultra-Viewable Touchscreen Display with DYNAVUE

Wireless Mobility - With up to four integrated wireless technologies in the same device, the Duo-Touch® II Tablet PC is designed to provide dependable connectivity across the spectrum of wireless networks; its convenient size (10.6" x 7.2" x 1.65") and light weight (just over 4 lbs) enables you to work everywhere and anywhere

Powerful - Duo-Touch® II with the Intel® Core™ Duo processor offers optimized power efficient computing and breakthrough dual-core performance with amazingly low power consumption needed to keep field-deployed, mission-critical workers productive and online throughout your deployment life cycle; with its two execution cores, the Intel® Core Duo processor is optimized for multi-threaded applications and multitasking

Dual touch Display -- The Duo-Touch® II combines the features of an active digitizer with the flexibility of a passive touchscreen, giving your users an easily selectable dual-touch interface on a single machine; the active digitizer allows for accurate signature capture and adding notes to drawings or maps, while the passive touchscreen mode can be used for simple navigation in Microsoft® Windows® and other custom applications which utilize user-friendly kiosk-style selection "buttons"

Security - Designed to protect users, information and networks; the Duo-Touch® II has multiple security features including TPM 1.2 Network Security standard, optional fingerprint scanner, PCMCIA card reader enabled, restricted input/output BIOS (password or Windows biometrics) and stealth mode (password or Windows biometrics).

Warranty + Service - 3-year warranty standard; additional options available for enterprise customers include Mobile Help Desk and comprehensive service support levels


Properties of the Itronix Duo-Touch PC II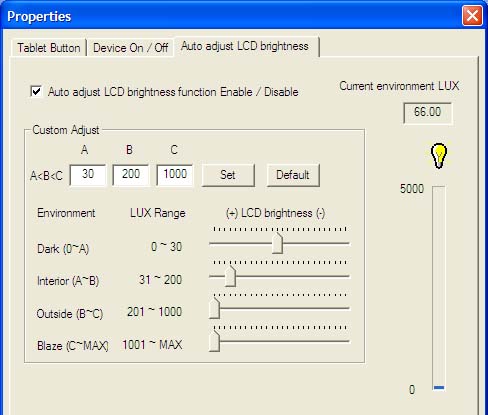 Brightness adjustment is either automatic or via buttons. The manual mode isn't immediately obvious: You use Function and the "rotate" key to increase brightness, and Function and the "security" key to decrease it.
In automatic mode there is the very handy control panel shown to the left. It lets you set backlight brightness levels in response to ambient lighting conditions as measured by the computer's light sensor that sits on the right side of the screen just above the control buttons.
The light sensor measures light in lux. Direct sunlight ranges from 30,000 to 100,000 lux. Outdoors in the shade you may encounter a few hundred to a couple of thousand lux. Indoors, you may have as little as 30 lux or as much as 500 under a bright reading lamp. The panel lets you set automatic brightness for four ranges. When the sensor detects a different lighting environment, it waits a few seconds, then adjusts brightness in steps. Even if you set the brightness to maximum for all levels, it's educational to watch the lux readout. You learn something about lighting intensity.
The same utility also lets you assign alternate functions to each of the hardware buttons to the right of the LCD.

Specifications of the Itronix Duo Touch 2

Dimensions

Length: 10.6" (27.0 cm)
Width: 7.2" (18.4 cm)
Depth: 1.65" (4.2 cm)

Weight

4.1 lbs (less than 2.0 KG)

Processor/Memory

Intel® Core™ Duo ULV processor (1.2 GHz)
512 to 2048 MB DDR2 RAM
553 MHz front-side bus

Storage

Shock mounted 2.5" 80 GB and 120 GB hard disk drive with heater
Optional 16 GB or 32 GB Solid State Hard Disk Drives

Power

Smart 3900 mAH (40.0W) Lithium-Ion main battery pack
3900 mAH (40.0W) Lithium-Ion expansion battery pack option

Display

8.4" SVGA TFT Transmissive display with DynaVue™ Patent-Pending technology for optimum outdoor viewability
DynaVue™ exceeds the minimum contrast ratio as required for bright sunlight per MIL-STD-3009

Pointing Device

Digitizer control panel touchscreen and passive touchscreen standard

Operating System

Microsoft® Windows XP Tablet PC Edition 2005
Microsoft® Windows Vista™

Interfaces

(1) PC Card slot for Type I or II card with 32 bit Card Bus 2.1 Interface
(1) Compact Flash slot for Type I or II card
Built-in RJ-11 and RJ-45 jacks for integrated fax/modem and Ethernet
(2) USB 2.0 connectors
26-pin docking connector
External speaker and microphone jacks
Connector for expansion battery

Audio

Internal microphone and speaker
PCI Audio with AC-97 compliance

Integrated Wireline Communications

56 Kbps V.92 fax/modem
10/100/1000 Mbit Base-T Ethernet LAN

Optional Integrated Wireless Communications

802.11 a/g/n WLAN
Bluetooth® 2.0
GPS
Sealed, rugged PC Card slot cover for user installed radios
Up to 3 RF modems and GPS can be integrated at one time

Hot Keys

Enter
Up/Down Arrows
Escape
Security (Secure Attention Sequence)
Rotate Display Image (landscape/portrait)
Function Key
Suspend/Power on/off
WLAN/Bluetooth on/off
On/off switch for all radios

Options

Desk Mount with 15-pin external video (CRT) port, (2) USB ports, and expansion Battery Charger
12/24VDC vehicle power supply
Vehicle dock with serial, USB, and external monitor connections
Fingerprint Scanner
Rotate Display Image (landscape/portrait)
Hand strap
Carry cases for system and accessories with handle and optional shoulder straps
Backlit keyboard

Environmental

Die-cast magnesium for structural components
Operating temperature -20° to 60° C (-4° to 140° F)
Operating temperature -20° to 60° C (-4° to 140° F)
Optional Compliance with UL 1604 Class I, Division 2, Group A, B, C and D for Hazardous Locations
Meets or exceeds MIL-STD 810F
ASTM 4169-99 truck assurance Level II, Schedule B
Sealed against water and dust intrusion (IP54)
Magnesium alloy casing and impact absorbing exoskeleton
Boot Temperature: -20° C with Hard Drive Heater
CE Mark

Warranty