I have been working on gathering more information about a new Apple portable device from several different sources during the past 6 months. I have pieced together the puzzle which portrays a picture of what can be perhaps best described as Apple's rival product to the Intel Ultra Mobile PC [UMPC] initiative which has unsuccessfully tried to marry Microsoft's Windows OS to a highly portable computing platform.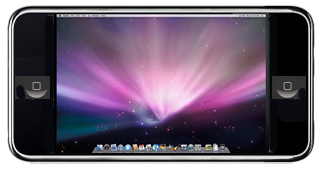 My strongest piece of evidence came from a trusted tipster about 4 months ago who described an image s(he) had seen of a mysterious touch screen device larger than the iPhone featuring one distinguishing button or depression on each side. At the time, unsure about the actual size of this new device, I reasoned that it could be a new generation of iPhone/iPod Touch or the much rumored Apple tablet. However, the device was later described to have been oriented horizontally on its long end, indicating that it was meant to be gripped with one hand on each side similar to a Sony PSP. This ruled out the Apple tablet which is, more than likely, a significantly larger device. It also ruled out iPod Touch since I have been previously tipped on the forward path of the iPod lineup by different sources, essentially confirming that touch screen iPods will not grow much in screen size.
Then about a month ago, another source revealed that Apple has shown significant interest in a 5.2″ 800 x 480 pixel touch screen design by Balda, a German company and the current iPhone screen supplier, and Wintek, an Asian component supplier. This second piece of evidence reveals the real purpose of this new device, an ultra mobile device occupying a position between the 3.5″ iPhone and the much rumored 7-10 inch Apple tablet. This further confirms that Apple is working on a new device due sometime in 2008 that will put strains on the flash memory supply chain.
One thing not seen by any of my sources is a keyboard: it's clear Apple will not be using a physical QWERT keyboard for this device, instead relying on its patented multi-touch screen as the sole interface for user input. This may be the reason why some have speculated that Apple may be on the verge of introducing a new generation of its famed Newton PDA. However, I firmly believe that the shrinking market for dedicated PDAs puts those speculations to rest, although various PDA functionalities may in fact be included in the final version of the device.
This new Apple device, which could be an Ultra Mobile Computer, has not been sighted out and about the Apple campus or even in the area normally designated for testing new Apple products, suggesting that it's still in the software and hardware design period. Once it's physically spotted outside Apple's secretive labs, we may see an actual product release of 6-8 months, closely following other new Apple product introductions.
Above is a rendition of this new device based on what we know so far.
Bron: Seekingalpha