Ingangen
Alle 4 de ingangen zijn individueel configureerbaar als 0-10V of 4-20mA.

Handig display
Door middel van de druktoetsen kan men gemakkelijk door het menu navigeren. En zo de parameters zoals de interne telefoonlijst, de signaalsterkte, de schalering en de alarminstellingen controleren.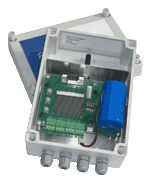 Werking
In normaal bedrijf zal de unit 'slapen' en is enkel de processor actief. De processor zorgt ervoor dat op gezette tijden de verschillende onderdelen 'ontwaken'.
Bijvoorbeeld; de processor zal een voedingspanning van 21Vdc op een uitgang inschakelen. Alvorens de meting uit te lezen zal hij een vooraf gedefinieerd aantal seconden wachten om het meetsignaal te laten stabiliseren. Hetzelfde is het geval bij 3.6Vdc toepassingen.
Indien noodzakelijk wordt het GSM modem door de processor ingeschakeld. Op het moment dat het modem actief is kunnen ook configuratieberichten ontvangen worden.
Energieverbruik
De interne accu heeft een capaciteit van 14.5Ah bij 3.6V. In de slaaptoestand zal de DM04 slechts 50 µA verbruiken. Wanneer er meerdere functies actief zijn zal de accu sneller leeg lopen, zoals bijvoorbeeld het voeden van de sensoren. De grootste stroomverbruiker is vooral het GSM modem.
Configuratie
De DM04 kan op afstand geprogrammeerd worden via een mobiele telefoon. De unit kan alleen configuratieberichten ontvangen als het modem actief is.

Voeding
De DM04 kan de sensor voeden met een spanning van 21 Vdc of 3.6 Vdc bij een maximum van 200 mA.
Technische specificaties

| | | |
| --- | --- | --- |
| Behuizing | : | IP67, Polycarbonaat |
| Afmetingen | : | 180 x 130 x 76 (mm) |
| Gewicht | : | ~ 0.7 kg |
| | | |
| Frequenties | : | 900/1800/1900Mhz |
| Voeding | : | Alleen speciale DM04 accu |
| | | |
| Omgeving | | |
| Temperatuurbereik | : | -20 tot +45 ºC |
| Luchtvochtigheid | : | 20 tot 80% non-condensing |
| | | |
| Digitale ingang | : | potentiaal vrij contact |
| Analoge ingang | : | 0-5V, 0-10V, 4-20mA (10 bit) |
| Interne batterij | : | typische levensduur 5 jaar. 3.6V/14.5Ah |
| Sensorvoeding | : | 21 of 3.6 volts, bij 200mA max |
| Alarmen | : | Op verandering digitaal signaal |
| | | of op 4 drempelwaarden bij analoog |
| Zendinterval | : | Vrij configureerbaar in minuten |
| Lokale configuratie | : | Via toetsen en geïntegreerde LCD |
| Configuratie op afstand | : | Via SMS berichten |
| SMS | : | Bij alarm of periodiek |