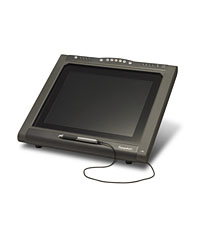 Description
Sympodium DT770:
The Sympodium DT770 interactive pen display gives you complete, intuitive control of your whole presentation environment. Connected to a computer and a projector, the DT770 is both a monitor and an input device that recognizes
both pen and touch.
You can see and control your presentation and write notes on the interactive 17" (43.2 cm) screen while your students see your presentation projected on a large screen. With the DT770 as part of a room-control system, you can navigate roomcontrol menus with the touch of a finger. It simplifies system design and installation by giving you control of all peripheral devices from one interactive display.
How to use the Sympodium DT770:
Presenting with the DT770 is as easy as using your own computer, and as natural as writing with a pen. You can
access any computer application and write notes in digital ink.
The DT770 gives you access to room-control functions through a familiar touch-screen interface. One button launches a
control panel for multiple presentation devices.
Mark up a spreadsheet. Highlight a Web page. Write over moving video. Dim the lights. Play a DVD. The DT770 helps
you reinforce your message and engage your students with dynamic, memorable presentations. So start your presentation,
and count on reaching even the largest audience while you present with confidence.
Features DT770:

Interactive screen
Use your finger to navigate room-control menus and the pen to write notes. The DT770 automatically toggles between pen and finger input modes by sensing when the pen is removed from its holder. Dual-touch DViT (Digital Vision Touch) technology is the magic behind SMART's proprietary digital touch system.
Display
17" (43.2 cm) LCD screen with SXGA resolution.
Battery-free tethered pen
Write smoothly and comfortably with the securely attached pen. And no battery means no maintenance cost or downtime.
Room-control interface button
Press the room-control interface button to launch the navigation menu for peripherals and lighting. It provides a seamless transition between your presentation and control environments.
Pen-tool buttons
Change ink color or use the eraser without crowding your display with toolbars.
Programmable function buttons
Use for quick access to features and applications you use most often.
Save function
Capture your work in Notebook software or save notes directly into several software applications, including Windows versions of Microsoft PowerPoint, Word and Excel, or into AutoCAD software.
SMART Board software
SMART Board software offers a powerful combination of Notebook whiteboarding software and SMART Board Tools.
Notebook software gives you access to thousands of digital images, templates, interactive and educational content, and advanced drawing tools. Through an easy-to-use interface, you can also create, organize and save notes, drawings and screen captures
SMART Board Tools add flexibility and convenience to teaching. You can write over digital video, type with the On-Screen Keyboard or focus attention using the Screen Shade and Spotlight tools. Other features include LinQ software, the Start Center, SMART Video Player, SMART Recorder and Floating Tools.
USB hub
Attach a USB memory device to the DT770 and deliver material without connecting a guest laptop or installing software.
On-screen display buttons
Fine-tune the display properties to suit your preferences.
LED indicators
Colored LED indicators show which tool is selected and which input mode is active.
RGB video pass-through
The built-in distribution amplifier sends a computer image directly to a projector from the DT770.
VESA mounting plate
Any 100 mm VESA mounting arm can be used.
USB and serial connection
Connect the DT770 to your computer using either a USB 2.0 port or serial connection.
Table stand
Position the DT770 at a comfortable viewing angle.
Specifications Sympodium DT770:
Size: 19" W × 18" H × 3 5/8" D (48.3 cm × 45.7 cm × 9.2 cm)
Display Area: 13 1/4" W × 10 5/8" H (33.7 cm × 27.0 cm) 17" (43.2 cm) diagonal
Weight :19 lb. 8 oz. (8.9 kg)
Shipping Size: 27 1/2" W × 26 1/2" H × 11" D (69.9 cm × 67.3 cm × 27.9 cm)
Shipping Weight: 34 lb. (15.4 kg)
Technology: Dual touch DViT™ (Digital Vision Touch) technology
Pen: Battery-free, tethered pen with LED status indicator. Convenient magnetized storage location for easy access.
Pen Tool Buttons Lighted buttons for controlling the pen behavior: Left Mouse, Right Mouse, Digital Ink (Black,
Blue, Red and Green) and Eraser
Function Buttons: Programmable buttons for accessing tools and applications: Floating Tools, Notebook
Software, Screen Capture and Keyboard
Room Control Button: Button for launching room control interface menu
Input/Output Interface:
Video IN HD15 (F)
Video OUT HD15 (F) - internal distribution amplifier supports cable length up to 100' (30 m)
Pen Tether 3.5 mm stereo jack
USB USB (B) (×1) integrated USB 2.0 hub to connect the DT770 to your computer
USB USB (A) (×3) integrated USB 2.0 hub to connect a mouse, keyboard or memory
storage device
Serial DB9 (F)
VDC IN 4 pin mini-DIN
NOTE: You can connect the interactive pen display to your computer using either a USB or serial connection.

Power Supply: Input: 100V–240V AC 50/60 Hz. Output: 12V DC, 5A, 60W maximum
Power Management: VESA DPMS
Power Consumption: Normal operation: <60W (Power LED green). Suspend/Standby mode: <25W (Power LED
orange). Off: <5W (Power LED off).
Mechanical Mounting: Standard VESA 100 mm rear mounting plate
Stand: Choose between two operating angles, 30° or 45° from horizontal
Security: Kensington® security slot
Certifications and Compliance: FCC, CE, WEEE, RoHS (China), RoHS (Europe)
------------------------------------------------------
LCD Features
Display Screen a-Si TFT active-matrix LCD
Interactive Screen Type DViT with Active Pen or Finger Touch (Dual Touch)
Communication Interface USB 2.0 (high speed)
Resolution 1280 × 1024 pixels
Synchronization Range Horizontal: 30 kHz–56.5 kHz
Vertical: 50 Hz–70 Hz
NOTE: Some Macintosh computers transmit video signals outside the 50 Hz–70 Hz
synchronization range. These models cannot be used with the Sympodium™ interactive
pen display.
Viewing Angle Horizontal 70°
Vertical 60°
Color Depth 16.2 million Color Emulation via FRC
Contrast Ratio 300:1 minimum, normal to screen, center position
Brightness Luminance of 200 cd/m² (typical)
Input Video Signal Analog 0.7 Vp-p positive at 75 ohm
Auto Adjustment Less than 2 seconds
Display Response Time 8 milliseconds, typical
On-Screen Display Brightness, Contrast Horizontal Position, Vertical Position, Clock, Phase, OSD off time,
Control Language, Sharpness, Reset, Color Setting, Color Adjustment for Red, Green and Blue


NxpLv/y8Bt38xzifSMJ+hA==