In early 2008, Panasonic slightly updated the CF-19 to the CF-19F version. The major change was switching from an Intel Core Duo U2400 to a Core 2 Duo U7500. Both are very low voltage chips running at 1.06GHz with virtually identical power consumption.
The Toughbook CF-19 is Panasonic's sole Tablet PC offering. It will always be dear to me because Panasonic showed me the original prototype of what would become the CF-18 in Osaka during a 2002 factory tour, and we discussed its inception and design. I was impressed that the Matsushita engineers seemed genuinely interested in my opinion.
The CF-19 is a technologically updated version of the original CF-18, just as the larger CF-30 is the latest version of the CF-27/28/29 line. Both updates were introduced in October of 2006 and have been incrementally updated since. The overall design of this very compact machine did not need to be changed as there is nothing to improve, and this also makes the CF-19 backward compatible with existing vehicle mount solutions -- an important consideration for many Panasonic customers. The photo above does not really show how compact this machine is. With a footprint of 10.7 x 8.5 inches and a thickness of under two inches this is one ruggedized machine that does not take up a lot of space. Even more impressive is that the CF-19 weighs just over five pounds despite its heavy duty construction and extensive protection.
The CF-19's design is that of a standard Tablet PC convertible. It can be used as a notebook, or the screen can be rotated and then folded down flat onto the keyboard, LCD facing up. Panasonic offers both a touchscreen version that runs standard Windows XP and a Tablet PC version with an active Wacom digitizer and the XP Tablet PC Edition. Both have a 10.4-inch transmissive XGA display with low reflection screen coating with a circular polarizer. The Tablet PC version is a bit brighter with a 550 Nit rating compared to the 470 Nit of the touch screen model.
The CF-18 version was last available with a 1.1GHz Intel Pentium M 733 processor, and the first generation CF-19 models were powered by a 1.06GHz Core Duo U2400 CPU. The CF-19F switched to a Core 2 Duo U7500 running at the same speed and having almost the same DTP (Thermal Design Power) rating (10 watts versus the older chip's 9 watts). This is a machine meant to last through as much as a full shift rather than winning speed contests. Standard RAM is now 1GB of DDR2 PC2-4200 and can be expanded up to 4GB (2GB in the Japanese spec). The shock-mounted, removable disk is 80GB. The CF-19 isn't large enough for an optical drive, so if you need one it has to be external.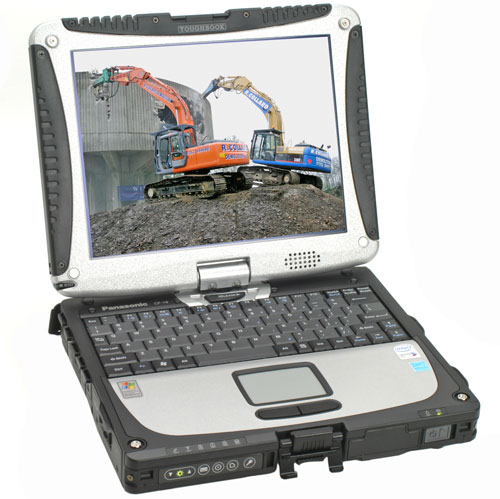 In the connectivity department, the CF-19 rates very high. Two USB ports, Firewire, serial for legacy peripherals, modem, LAN (only 10/100 though), audio, video, port replicator and two external antennna jacks. All ports are covered or sealed. Wireless capabilities include an Intel WiFiLink 4965AGN module and Bluetooth 2.0 with enhanced data rate, as well as optional integrated radios Cingular/AT&T UMTS/HSDPA and the EV-DO Verizon and Sprint networks. GPS is also available, as is a fingerprint scanner. The CF-19 does have a Trusted Platform Module security chip, but not the CF-30's SmartCard reader option.
Like all Toughbooks, the CF-19 is built to last and take some punishment. It has a full magnesium case, a moisture and dust resistant keyboard (sadly still not full-scale!) and enough sealing to give it an IP54 rating. It's MIL-STD-810F tested, but the specs are somewhat unclear as to what degree (the US and Japanese websites state different data). We rate it somewhere between the often fluid "rugged" and "semi-rugged" designation.
Overall, the CF-19 is a highly configurable, compact and modern mobile computer that fits almost anywhere. It weighs very little, yet has a battery powerful enough to last, according to Panasonic, almost eight hours. The Tablet PC convertible design adds flexibility, as do the various wireless options available.
Bron: ruggedpcreview.com